What's next after this ad
How far away this missed penalty from Bukayo Saka against Gianluigi Donnarumma, offering Euro 2020 to Italy at Wembley after a penalty shootout that will haunt many English until the end of their days . Some could have dived, sunk, and had a hard time getting their heads out of the water. The Arsenal striker, at the age of 20, was able to get through this difficult ordeal, during which he notably suffered racist insults on social networks, to get up better and come back even stronger.
"I think Bukayo had an experience this summer that few players will ever have and I think it's great for his career, because the football world has shown how much he loves him and how much he respected him. I think experiences like that mark your career. And you learn more from those tough times than if he had scored that goal.", analyzed his trainer, Mikel Arteta, not long ago. If he was already one of the most dangerous Gunners, the English international (14 caps, 4 goals) continues to confirm the very high hopes placed in him, weekend after weekend, on the lawns of the Kingdom of Sa Majesty.
Arsenal want to protect their nugget
Permanently installed as a right midfielder in Mikel Arteta's 4-2-3-1, Bukayo Saka, who had notably revealed himself as a left-back with his training club, constantly makes his opponents dizzy. As well able to enter on his left foot as to overflow in his right lane, even if it means using his weak foot, the native of London is a real poison for the defenders of the Premier League. He makes real differences for his team, and it is no coincidence that he is his club's joint top scorer in the league (9 goals, like Emile Smith Rowe).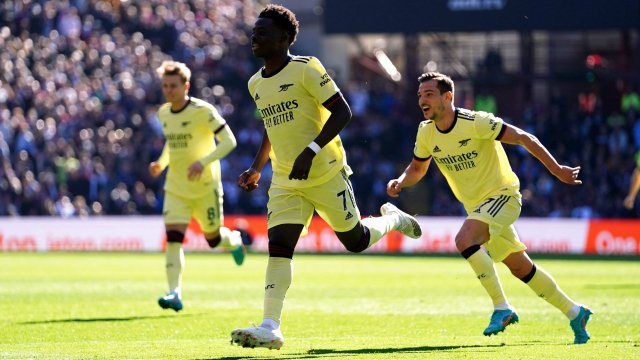 "You have to give him space, let him breathe. What he has already done is phenomenal and he needs that space. Don't calculate too much, do what you know how to do. Football is a priority in his life and you can see him in training every day. He needs to keep behaving that way and living that way.", confided the Spanish technician on March 6th. Aware of the growing importance of his No. 7, Arsenal has already started negotiations with the player's entourage around a new contract, while his currently runs until 2024, according to The Athletic. On his side, The Sun assures in the sense that his management is ready to quadruple his emoluments and to offer him 125,000 £ (150,000 €) per week.
Conquer the Three Lions after the Gunners
Again called up for selection by Gareth Southgate, Bukayo Saka unfortunately did not have the chance to speak at Wembley during his country's two friendly matches, against Switzerland's Granit Xhaka (XX, March 26), and against the Ivory Coast of Nicolas Pépé (XX), three days later. Especially since Jadon Sancho and Marcus Rashford, for example, were not part of the plans of the English selection for this first gathering of the year 2022.
No doubt the young Bukayo Saka will still have many opportunities to assert himself a little more on the other side of the Channel with the Three Lions. Just to remind you that he does indeed intend to play the leading roles in the long term, and to, why not, put the Gunners back in the foreground in the Premier League, but also to bring England back to the roof of Europe. To wash away definitively, once and for all, the affront of Euro 2020.
I am gutted to withdraw from @england camp but I have tested positive for Covid-19 and I will be isolating until I am negative.
I'll be supporting the boys from home this weekend and I can't wait to be back doing what I love soon 🙏🏿 pic.twitter.com/w4QrIy6IDe

— Bukayo Saka (@BukayoSaka87) March 24, 2022